Stream Your Desktop Using ManyCam
Posted:
Sat May 14, 2011 6:54 pm
1. Download ManyCam from the following URL and install it on your computer:
http://www.manycam.com/
2. Open ManyCam. Click on the Sources tab at the top, shown in a red box in the following screenshot. Your screen should now look very similar to the one in the screenshot. (Colored boxes have been added to the screenshot to help you find the buttons referenced in the following instructions more easily.)
3. Click on the Desktop button, shown in a brown box in the above screenshot, to select the Desktop as your source.
4. Use the Full Desktop, Partial Desktop, or Custom Desktop (all shown in the green box in the above screenshot) to select how much of the desktop you want to show.
-If you select Full Desktop, the entire desktop will be shown (including the ManyCam window, when it is not minimized).
-If you select Partial Desktop, ManyCam will follow the mouse, keeping it in the center of the shot. The amount of area shown is determined by the "force size" option on the right (shown in a pink box in the screenshot). If you do not select a size, the size will be set by the broadcasting program you are using (e.g. the Ustream.tv Broadcast Console, Flash Media Live Encoder, or Ustream Producer).
-If you select Custom Desktop, a gray, semi-transparent window will appear. Resize the gray window and drag it over the region of the desktop you wish to capture, and then press OK in the upper left corner of the gray window.
5. Set the "Update rate" slider (shown in a blue box in the above screenshot) appropriately. Dragging it toward the left, toward 0, will increase the framerate and reduce the appearance of choppiness.
6. Open your broadcasting program of choice, select "ManyCam Video Source" as the video source, and start your broadcast like you normally would.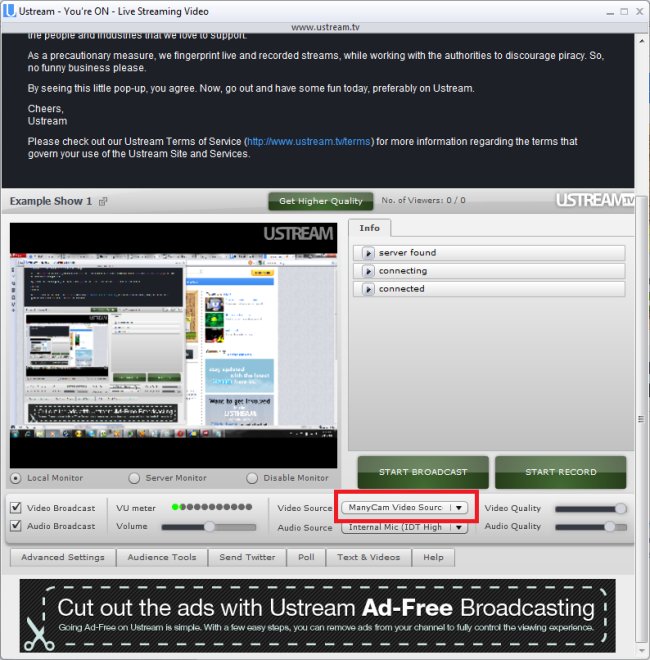 Bonus Tip!
To prevent the ManyCam.com logo from showing in the bottom right of your video, click on the Effects tab at the top, select "Text over video" on the left, and uncheck the "Show ManyCam.com Logo" option that appears right below the video window once you have done so.